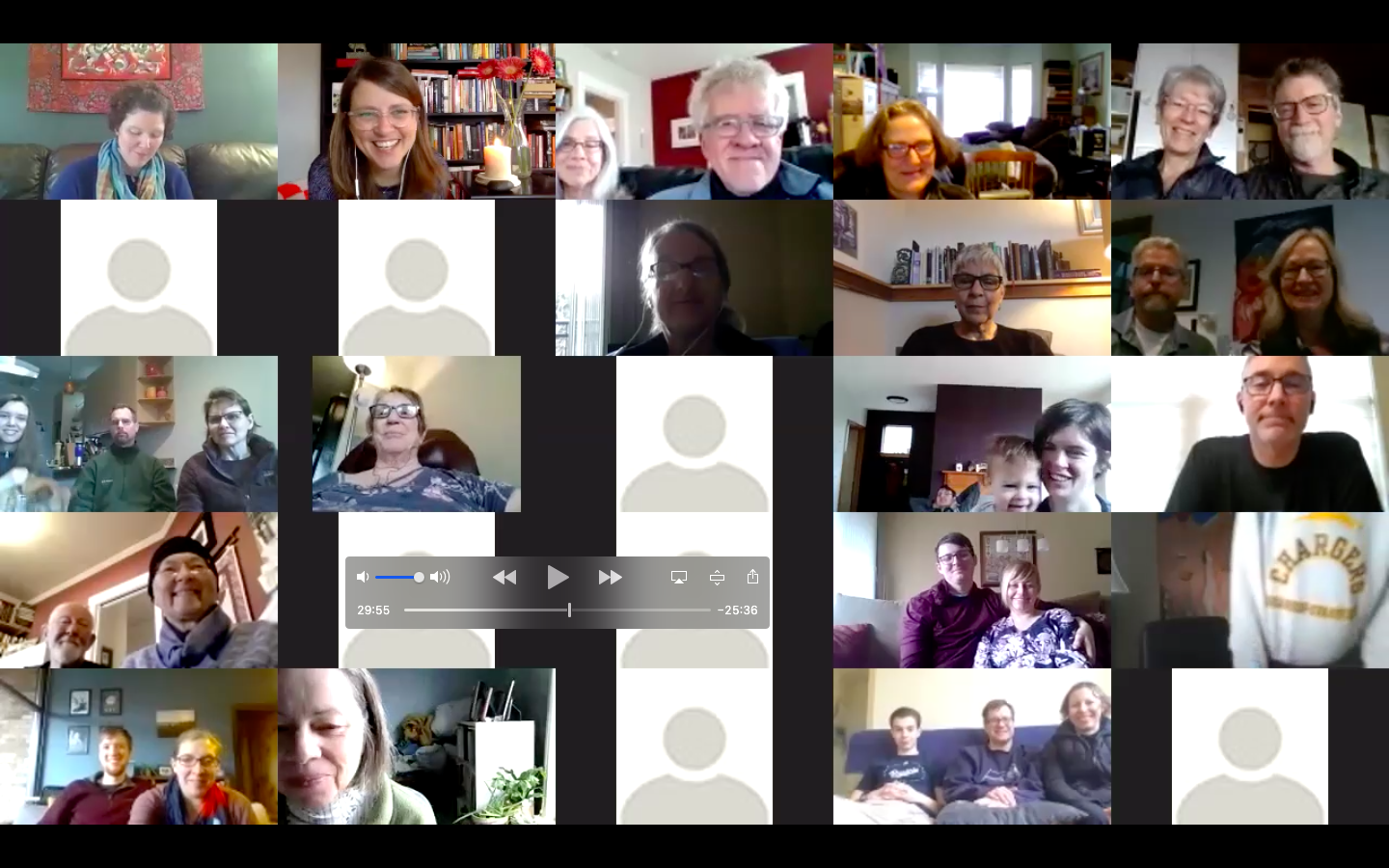 Zoom Church (3/8/20)
Our first experience of gathering as church via Zoom. While absolutely nothing can replace being in the same space with our whole body-spirit selves, given the circumstances, this was a delight. 39 households, many of whom included multiple people, logged in for Lenten worship and prayer, and even some fellowship with folks who stuck around at the end. What an unexpected and sweet surprise it was to be able to gather with some in our SMC diaspora, as well as SMCers who are currently traveling away from home. We convened from Michigan, from Arizona, from Port Townsend on the Olympic Peninsula, from up in La Conner, and from our homes all across the greater Seattle region.
[Please note that the photo is only representative – We had so many folks logged in that not everyone could fit on a single screen!]
Series
Narrative Lectionary – Year 2

"On Anxiety" – Prayer shared by Rabbi Ruth A. Zlotnick at Temple Beth Am, here in Seattle; from collection of prayers "Where Healing Resides" by the Central Conference of American Rabbis
Adonai, You abide though all things change. I am anxious and fearful, and I turn my heart to You, looking to You and leaning on Your strength. It is written "Blessed is the one whose strength is in You." Bless me now with faith and courage. Help me to feel that You are with me, steadying and sustaining me with the assurance that I am loved. Be with me and bring me hope, that in the days to come, my aspirations may be fulfilled for my good and good of those I love who depend on me. Banish my fears with the sense that You are always present, to uphold and sustain me, as it is written, "Have no fear, for I am with you; be not dismayed, for I am your God. I will strengthen you, I will hep you,  I will uphold you with the power of My righteousness" (Isaiah 41.10). Amen.