Children, Youth, & Their Families
We believe that children are born with a fundamental awareness of God's presence and with the potential for meaningful spiritual experiences through God's grace.
Children
Children from ages 3 – 11 meet in three classes according to age, one preschool class and two school-aged classes.   Parent and other volunteers from the congregation act as teachers and classroom assistants.  Leaving worship around 11:00 (after the sermon) children learn through Bible study, interactive activities, discussion and reading, they gain greater depth of knowledge about Jesus and the Biblical story and the beginnings of ethical and theological understanding.  We have been using the teaching resource and curriculum Gather Round, a joint Mennonite and Brethren publication.
All ages of children participate in worship, both with adults, and with each other during their classes. At the end of the morning, children of all levels gather to sing. Parents pick up all children at 12:30.
Youth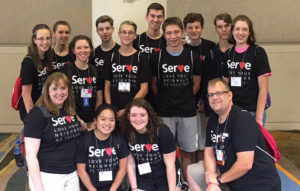 Youth in Junior and Senior High also gather for Sunday School. They each meet in their own space with a teacher who engages the youth in discussion and activities on a range of topics from Bible study to healthy sexuality to Exploring (Ana)Baptism to social issues and current events.
Youth also meet periodically outside Sunday morning for fellowship and education. Some favorite activities in the past have included game or movie nights, Whirlyball, ice skating, archery, bowling, and much more. Throughout the year youth are encouraged to participate in service projects, Camp CAMREC, and the Mennonite Country Auction. The senior youth also work to raise money for the bi-annual Mennonite Youth Convention, which happens in conjunction with the MC USA Assembly. Each youth has the opportunity to be paired with an adult mentor from the congregation in SMC's mentoring program.
Their Families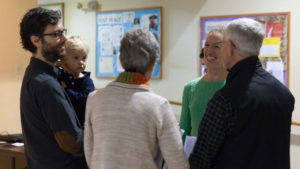 At SMC, we are intentional in ministering to families with children through our worship, fellowship, education, and service opportunities. Sign up to receive a "Midweek Message" from our Pastor for Children, Youth, and their families. Each week's message includes ideas for practicing faith in the home, reflections on how current events intersect with family life, and resources for parents and other caregivers of children and youth.