Children, Youth, & Their Families
We believe that children are born with a fundamental awareness of God's presence and with the potential for meaningful spiritual experiences through God's grace.
Children
Children's Time
Children from ages 3 – 11 meet in two classes according to age, one preschool class and one elementary school age class.   Parent and other volunteers from the congregation act as teachers and classroom assistants.  Sunday school for children is after fellowship snack with parents for one hour, from 11:00-noon.  Through Bible study, interactive activities, discussion and reading, they gain greater depth of knowledge about Jesus and the Biblical story and the beginnings of ethical and theological understanding.
All ages of children participate in worship, both with adults, and with each other during their classes. In worship we have an area for 0-5 year-olds called our "Prayground" stocked with crayons, paper and soft toys for quiet play and coloring.  There is also a staffed nursery where parents are welcome to care for their young children – before COVID this nursery was staffed with volunteers, but, we have not returned to that practice, yet.
Youth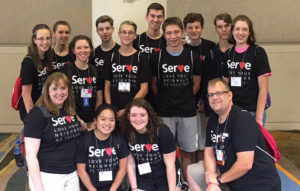 Youth 
Junior Youth (Middle School) and Senior Youth (High School) gather for Sunday School at 11 am. They each meet in their own space with a teacher who engages the youth in discussion and activities on a range of topics from Bible study to healthy sexuality to Exploring (Ana)Baptism to social issues and current events. Youth from grades 6-8 will meet in the small upstairs Sunday school room and high school youth will meet in the Youth Room.
Youth also meet periodically outside Sunday morning for fellowship and education. Some favorite activities in the past have included game or movie nights, Whirlyball, ice skating, archery, bowling, and much more. Throughout the year youth are encouraged to participate in service projects, Camp CAMREC, and the Mennonite Country Auction. The senior youth also work to raise money for the bi-annual Mennonite Youth Convention, which happens in conjunction with the MC USA Assembly. Each youth has the opportunity to be paired with an adult mentor from the congregation in SMC's mentoring program.
Their Families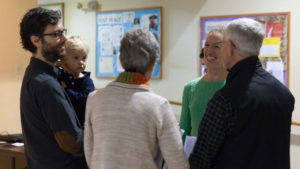 At SMC, we are intentional in ministering to families with children through our worship, fellowship, education, and service opportunities.