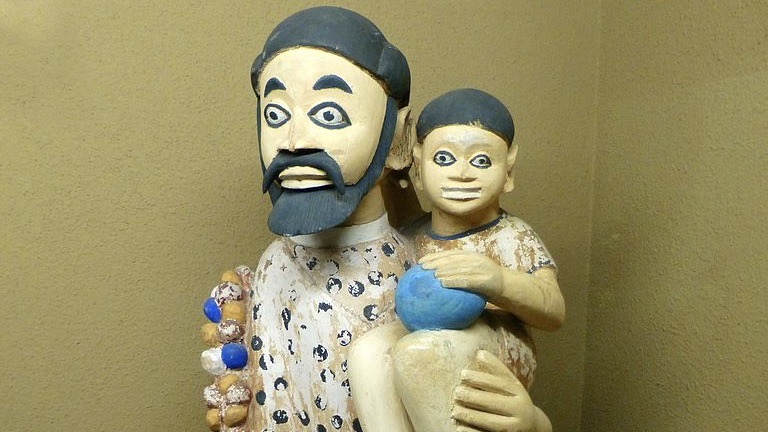 Formation and Family
Jesus' formation began when he was still in utero, when his mama sang the revolutionary songs of her own foremamas, and when Joseph drew a circle of family around a child not his own. Years later when Jesus' own ministry proclaimed a liberation of systems where thrones and lowly unjustly co-exist, and dramatically redefined family, Mary & Joseph should have been the very least surprised of all. It is exactly who they formed the child Jesus to be. May we similarly form and be formed by the prophetic young ones in our midst who will continue to call us to ever-widening circles of chosen kinship and liberation.
Resources
Resources
A Woman's Lectionary for the Whole Church (Year W): A Multi-Gospel Single-Year Lectionary

, Wilda C. Gafney, Church Publishing Incorporated, 2021.

Jan L. Richardson,

The Luminous Word: Entering the Mysteries of Advent & Christmas

(Wanton Gospeller Press, 2005).
Image: Saint Joseph et l'Enfant Jésus, Yoruba-Nago (Kétou), 1930; Musée africain de Lyon. Licensed under the Creative Commons Attribution-Share Alike 4.0 International license; original cropped to show detail.
Voices Together 208 With Mary Sing Magnificat Text: Jeannette M. Lindholm (USA), © 2000 Jeannette M. Lindholm (admin. Augsburg Fortress) Music: English traditional; harm. Ralph Vaughan Williams (England), The English Hymnal, 1906. Permission to podcast the music in this service obtained from One License with license #A-726929. All rights reserved.