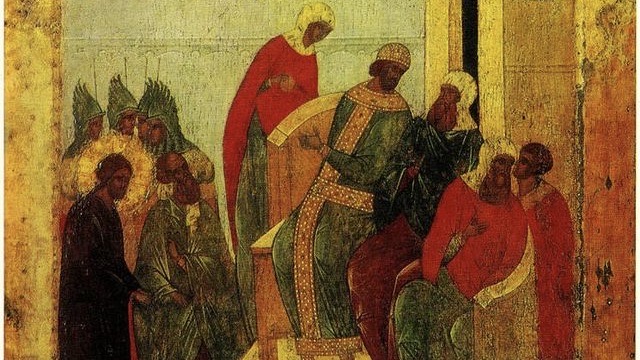 Belonging to a True Word
The scene in Jerusalem during this time of Passover is fraught, and occupying imperial power is tenuous. Crowds travel all across the Judean landscape to convene in Jerusalem for an annual pilgrimage in which they retell a story of their ancestors finding liberation from oppressors. The contemporary oppressive overlords tremble at the prospect that the power of the people may rise up against them. It's in this context that Jesus is tried by Pilate. The wheels of imperial self-interested violence cycles churn away – keeping everyone afraid of everything all the time. According to John's gospel, Jesus has come as a True Word that stands in opposition to the siren voice of the bandit leading his violent and scattered revolt. Nothing could be more threatening to the occupying imperial powers than an embodied TRUE word of belonging and nonviolent resistance.
Series
Narrative Lectionary, Year 4, Lent
Resources
Bibleworm podcast:

Episode 334 – What Is Truth

, Amy Robertson and Robert Williamson, Jr.

Willard M Swartley,

JOHN

: Believers Church Bible Commentary, Herald Press (2013).

Women's Bible Commentary

, eds. Carol A Newsom and Sharon H Ringe, Westminster John Knox Press (1992).

The Queer Bible Commentary

, eds. Deryn Guest, Robert E Goss, Mona West, Thomas Bohache, SCM Press (2006).

Francis J Moloney, S.D.B.,

The Gospel of John

, Sacra Pagina Series Vol. 4, The Liturgical Press (1998).
Image: Pilate Judgment, detail from a 15th century icon (public domain)
Hymn: Ah, Holy Jesus, VT 330 Words and Music – ©PD Public Domain 
Music: Johann Crüger; Text: Johann Heerman