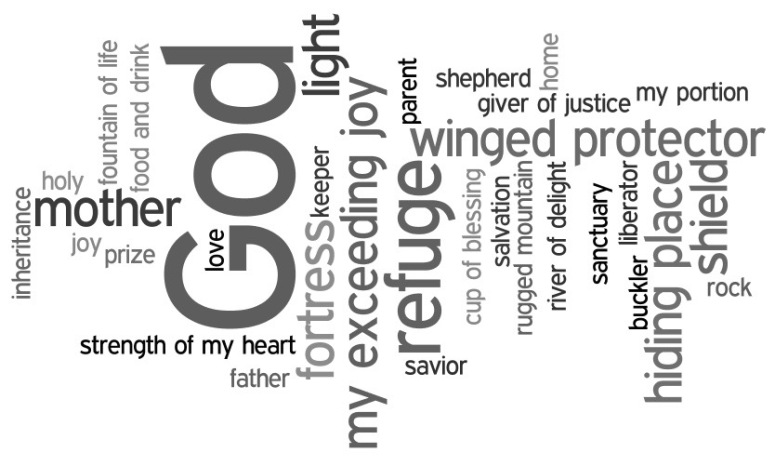 Collage of God
On Trinity-ish / Trinity-PLUS Sunday, Pastor Megan shares snapshots of some of the MANY names for God and images of God that make up her limited yet growing collage of who God is.
Excerpts from the Psalms, reflecting some of the many ways humans have experienced God, described God, and named God. We will hear different pronouns for God throughout: she/her, they/them, and he/his. Listen for the rich variety of images, descriptive adjectives, and names for God. [I very freely wove together a variety of translations: NRSV, NIV, The Living Bible, New Living Translation, NASB.]
Psalm 36.7-9
How precious is your constant love, O God!
All humanity takes refuge
in the shadow of your wings.
You feed them with blessings
from your own table
and let them drink from your rivers of delight.
For you are the Fountain of life;
our light is from your Light.
Psalm 91.4-5
God will cover you with his feathers,
and under his wings you will find refuge;
his faithfulness will be your shield and buckler.
You will not fear the terror of night,
nor the arrow that flies by day.
Psalm 9.9
God is sanctuary for the oppressed,
a refuge in times of trouble.
Psalm 16.5a
God, you alone are my inheritance,
my prize,
my cup of blessing.
You are my food and drink, my highest joy!
Psalm 18.2-3
God is my rock, my fortress, and my savior;
my God is a rugged mountain where I hide.
They are my shield,
like the strong horn of  a mighty fighting bull.
I cried to God, who is worthy of praise,
and they saved me from my enemies.
Psalm 23.1-3
God is my shepherd, I shall not want.
She makes me lie down in green pastures;
she leads me beside still waters;
she restores my soul.
She leads me in right paths for her name's sake.
Psalm 27.1
God is my light and my salvation;
whom shall I fear?
God is the fortress of my life;
of whom shall I be afraid?
Psalm 32.7
You are a hiding place for me, O God;
you preserve me from trouble,
from every storm of life;
You surround me with songs of deliverance.
Psalm 43.4
Then I will go to the altar of God,
to God my exceeding joy;
and I will praise you with the harp,
O God, my God.
Psalm 68.5-6a
God is a father to the fatherless;
God gives justice to the widows,
for he is holy.
God gives families to the lonely
and releases prisoners from jail,
giving them joy.
Psalm 73.26
My flesh and my heart may fail,
but God is the strength of my heart
and my portion forever.
Psalm 121.5-6
God is your keeper;
God is your shade at your right hand.
The sun shall not strike you by day,
nor the moon by night.
Psalm 131.2
But I have calmed and quieted my soul,
like a weaned child in its mother's arms;
content as a weaned child
is my soul within me.
Psalm 90.1-2
God, through all the generations
you have been our home.
Before the mountains were born,
or you gave birth to the earth and the world,
from everlasting to everlasting you are God.